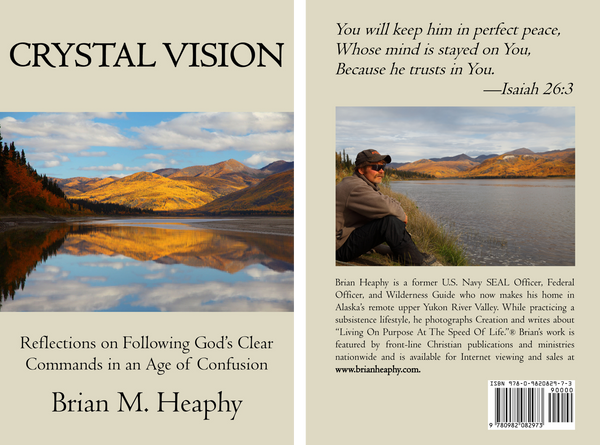 IN THE WORDS OF OTHERS:
"Few men become Navy SEALs. The rarest of men attempt subsistence living in the cold, harsh interior of Alaska. What others avoid, Brian Heaphy embraces as a lifestyle. In a remote region, in a punishing climate, Brian has come face to face with himself, with nature, with death, and with his Creator. He has journeyed beyond limitations to stand at the precipice of eternity, facing the immensity and holiness of God. Now, a forgiven sinner, recommissioned by divine grace, Brian takes us along on a disciplined journey into the supreme joy of worshiping the Creator and Redeemer, the Author of life itself."

Travis Allen
Senior Pastor, Grace Church, Greeley, Colorado


"Brian Heaphy applies the truth of the Scriptures to daily living with rare precision—and in a most compelling and practical way. He is a marksman with words for the glory of God."

Mike Arena
Executive Director, Voice For Christ Ministries

"Nothing is more powerful, indisputable, or captivating than the testimony of a changed life. Amid unthinkable perseverance while living alone in Alaska's vast and unforgiving wilderness, Brian Heaphy discovers the infinite grace and guidance of the One who promises that we are never alone. The author's skills at subsistence living are only surpassed by his gift as a word craftsman who clear-cuts a physical, mental, and spiritual journey for everyone to follow. Brian's heartfelt quest for true faith unites the reader with a search and rescue mission that only a former Navy SEAL could lead with such focused determination—sentence by sentence, page by page. Join in, search, and be rescued."

Tom and Jennifer Ish
Publishers, Creation Illustrated magazine

"Brian Heaphy shoots straight. Using God's inspired word throughout this potent book, he leaves us no room for excuses in areas where our lives deviate from Scripture. But what kind of doctor would we prefer? Do we desire one who gives us hugs but does not address our disease—or one who tells us the truth in kindness and then points us to the cure? Brian takes the second approach. Read him and find healing for your soul."
Steven J. Cole
Pastor Emeritus, Flagstaff Christian Fellowship, Flagstaff, Arizona
---
***The greatest number of books that can be processed per single order entry is #20 books. For orders of more than #20 books, simply place multiple orders until the desired quantity is achieved. As an example, to order #45 books you would need to place two orders for #20 books each and a third order for #5 books.

***Quantity discounts are available. Please submit pricing inquiries via the Contact page of this website. Thank you for your interest.
***For those who wish to order the EPUB version of my book, I recommend using the Calibre EPUB reader for the best results. The Calibre EPUB reader is available as a free download on the Internet and offers the best overall viewing experience across a wide variety of operating systems and devices. Other EPUB readers may distort the appearance of the EPUB version of my book.

***For those who prefer a KINDLE version, my book is also available in this format on the Amazon website. Simply do an Internet search for "Crystal Vision, Brian Heaphy, Amazon."